In early November, the weather was still pretty mild in the Great White North a.k.a. Canada. I recently spent some time up in the country visiting family and thought it would be a great idea to change up the scenery of my next photoshoot. Enjoy the beautiful scenery that will follow in my countryside shoot!
I've been on the hunt for some great plus-size skinny jeans for some time now, but I feel that my options are extremely short this season. I've been searching high and low for the perfect pair of skinnies and frankly I'm a little shocked that it took this long.
I find it hard to fit jeans due to the fact that I have a larger waist and long, leaner legs. I also don't have a very full bottom, which leaves most of my jeans to do one of the following: they fit in the waist and are extremely loose in the butt and legs (especially the knees) OR they fit in the legs but are too tight in the waist. This is incredibly frustrating, because I don't want to be uncomfortable in tight jeans or look sloppy in loose jeans.
I happened to be browsing at
Hudson's Bay Company
a couple of weeks ago and found myself lost in the
Junarose
section. Junarose is an amazing Danish brand that I'm obsessed with! I seriously love how their clothes fit, and that they range in size from an XL-4X (in UK sizing) which is so great to see. I love when companies show diversity in their sizing and cuts of clothing. Thankfully, due to Junarose's generous sizing, I never have to worry about not fitting into something. Anyway, I found the most perfect jeans in the Junarose section (honestly the last place I really expected to find jeans). The jeans are an "unwashed slim fit" which is super flattering on many body types!
I paired my new spectacular jeans with my fall-appropriate kimono that I recently purchased from
Addition Elle
. Honestly, I was a bit skeptical about buying another kimono in the fall, but I have seriously gotten so much use out of it lately. Fringe has been such a hot trend this summer and fall, and I definitely see the trend lasting throughout the winter as well with totally boho-vibes reverberating within the fashion world. I'm really happy about this find and I'm worried that it will be so well-received that there won't be too many of these left in stores soon!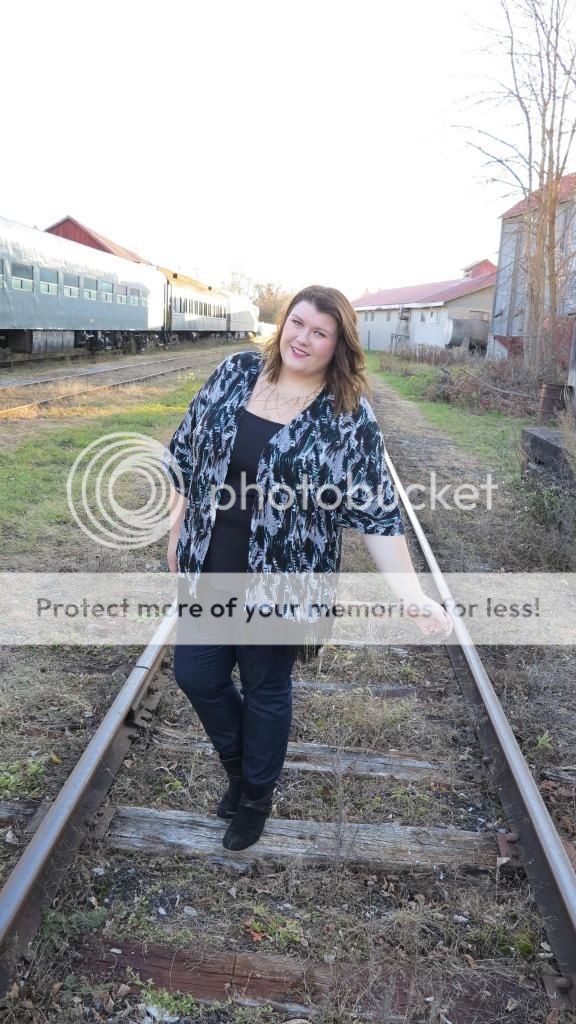 [outfit details]
Kimono: Addition Elle (available
here
)
Top:
Addition Elle
Jeans:
Junarose
via
Hudson's Bay Company
(available
here
)
Boots:
Necessary Clothing
Necklace:
Forever 21